AIconostasio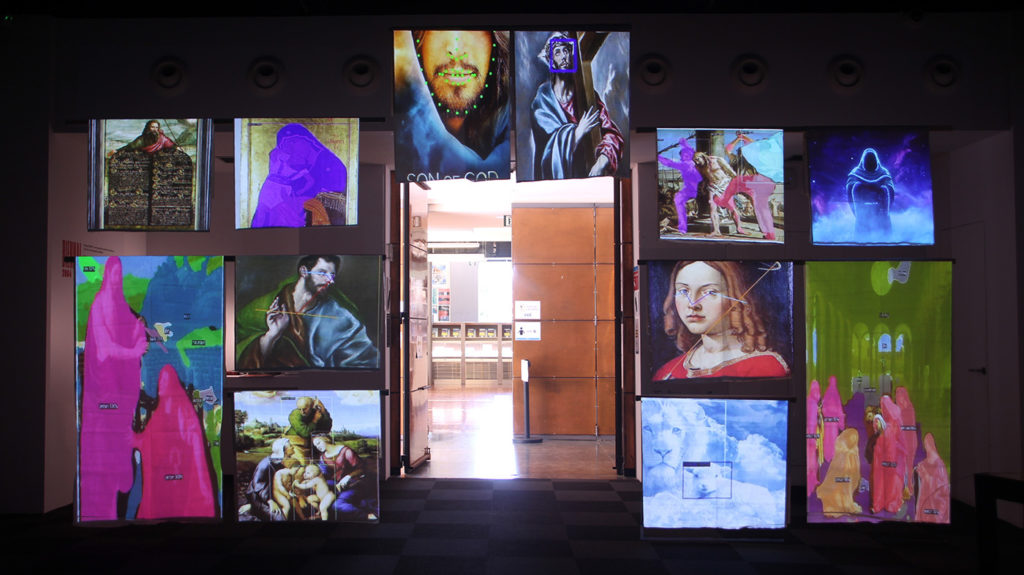 Artificial Intelligence Video Installation
A commission for Biennal 2064
2022
Produced with the support of the Institute of Cultural Industries and the Arts of the Region of Murcia (ICA)
[eng]
AIConostasio represents the union between two worlds, the world of humans and that of Artificial Intelligence. In recent years we are witnessing the emergence of a new deity; the cult of artificial intelligence algorithms is almost a new religion that, thanks to its advanced predictive mechanisms, advises us and ends up directing both our social behavior and our daily actions. In this work we recreate the structure of an iconostasis, traditionally used in Orthodox churches to connect the physical world with the divine, structured with various windows and doors between the two realms. In this way, AIConostasio allows us to access the interface of the new god of Artificial Intelligence that looks at itself and constantly and tirelessly analyzes itself with the intention of getting to know itself better.
This work uses the Detectron2 library with the Deep Learning computer vision algorithms of Object Detection, instance, keypoint, LVIS  and Panoptic segmentation.
[esp]
AIconostasio representa la unión entre dos mundos, el mundo de los humanos y el de la Inteligencia Artificial. En los últimos años estamos asistiendo al surgimiento de una nueva deidad; el culto a los algoritmos de inteligencia artificial es ya casi una nueva religión que, gracias a sus avanzados mecanismos predictivos, nos aconseja y acaba dirigiendo tanto nuestro comportamiento social como nuestras acciones cotidianas. En esta obra recreamos la estructura de un iconostasio, tradicionalmente utilizado en la iglesias ortodoxas para conectar el mundo físico con el divino, estructurado con diversas ventanas y puertas entre ambos reinos. De esta manera, AIconostasio nos permite acceder a la interfaz del nuevo dios de la Inteligencia Artificial que se mira a sí mismo y se analiza constante e incansablemente con la intención de conocerse mejor.
Esta obra utiliza la librería Detectron2 con los algoritmos de visión por ordenador Deep Learning de Object Detection, instance, keypoint, LVIS segmentation y Panoptic segmentation