Observatorio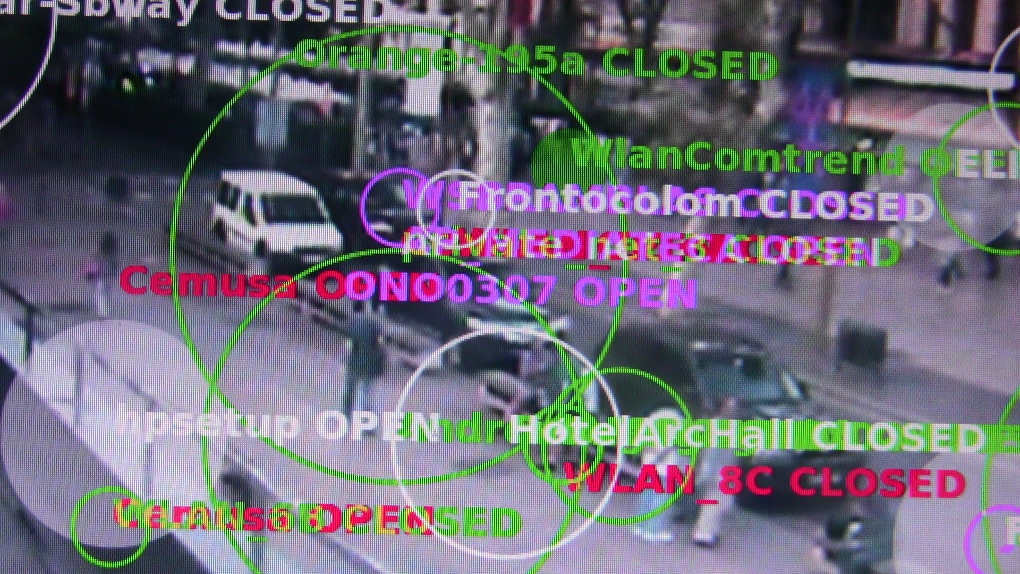 Observatory
Outdoor installation connected with exhibition space
Wifi antenna, camera, computer, video-projection, photography
2008

Programming by Diego Diaz & Martin Nadal
Made with Python and Openframeworks
[eng]
This project explores a little strip of the radio-electric spectrum, the space of wireless networks, Wi-Fi space. By means of a telescope-like observation device, we scan the city and look for Wi-Fi networks. When the system finds an open Wi-Fi network uses it for send the information to the exhibition space where a new map of the city is displayed. Prolonged observation through Observatorio generates a complex record of the new urban context, a cartography of the Wi-Fi space.
The Observatorio project was presented for the first time in June 2008 in the city of Gijon, as part of the exhibition Banquete, Nodos y Redes (Banquet, Nodes and Networks). A device was installed in the tower of the Universidad Laboral, situated on the outskirts of the city, a place from which all the city can be seen and very close to the art centre La Laboral, to which it was connected. It operated non-stop for five months.
From March to June 2009, Observatorio was installed in the city of Karlsruhe (Germany), connected to the ZMK museum. On that occasion the site chosen was the Turmberg, a hill from which all the city and its suburbs can be seen.
In Valencia the project was increased in size and extended to three different spots in the city, all of which were emblematic towers, the major visual referents of the old city center and the watchtowers that all visitors go to in order to enjoy the view and see the territory and its boundaries. The Miguelete, the bell tower of Valencia cathedral, and the Towers of Quart and Serranos, two gates leading into the walled medieval city, have been transformed for two months into observation posts to record wireless networks and help us build a much more complex panorama, a 360-degree tour of the city from the center.
The three observation devices were connected with Sala Parpalló and send information about their status and the new discoveries that tourists and random visitors have made on looking at the cityscape from them. In this way the gestures of each visitor are added to those of the previous ones and converge in the exhibition gallery, augmenting the record of networks and continually updating the file and its visualization.
In 2010, Observatorio scanned the city of Tallin, at the top of a skyscraper and connected with Kumu Art Museum. In Barcelona Observatorio scanned the city center from its location in Ars Santa Mónica at the end of Las Ramblas.
[esp]
Observatorio es un proyecto de exploración de una pequeña franja del espectro radioléctrico, el espacio de las redes inalámbricas, el espacio wifi. Mediante un dispositivo de observación, a modo de telescopio, descubrimos y localizamos las redes wifi para redibujar el mapa de la ciudad.
La exploración prolongada genera un completo registro de la situación de este espacio en los lugares donde se instala Observatorio. De esta manera podemos aproximarnos al conocimiento de distintos contextos urbanos mediante la lectura de esos datos, mediante el análisis del número de redes, su localización en la ciudad, su status abierto o cerrado, de acceso público o uso restringido, etc..
El proyecto Observatorio se presentó por primera vez en junio de 2008 en la ciudad de Gijón, en el contexto de la exposición Banquete, Nodos y Redes. Se instaló un dispositivo en la Torre de la Universidad Laboral, situada en una zona periférica, desde la que se ve claramente todo el casco urbano y muy próxima al centro de arte La Laboral con el que estaba conectada. Estuvo en funcionamiento continuado durante cinco meses.
De marzo a junio de 2009, Observatorio se instaló en la ciudad de Karlsruhe (Alemania) conectado con el museo ZMK. En esta ocasión el emplazamiento elegido fue el Turmberg, una colina que ofrece una excelente panorámica de la ciudad y sus suburbios.
En Valencia el proyecto se ha ampliado y extendido a tres puntos distintos de la ciudad, todos ellos torres emblemáticas, que constituyen los principales referentes visuales del casco histórico así como las atalayas a las que cualquier visitante ocasional acude para disfrutar del paisaje y conocer el territorio y sus límites. El Miguelete, torre campanario de la catedral de Valencia, y las Torres de Quart y Serranos, puertas de acceso a la ciudad amurallada medieval, se han transformado durante dos meses en puestos de observación y registro de las redes inalámbricas ayudándonos a componer un panorama mucho más completo, un recorrido en 360 grados de la ciudad desde su centro.
Los tres dispositivos observatorio se conectan con la Sala Parapalló y envían información de su status y de los nuevos descubrimientos que turistas y visitantes ocasionales han provocado al mirar el paisaje a través de ellos. De este modo los gestos de cada visitante se suman a los anteriores y confluyen en la sala expositiva incrementando el registro de redes y activando la actualización continua del archivo y su visualización.
Con Observatorio también hemos rastreado las ciudades de Tallin y Barcelona.