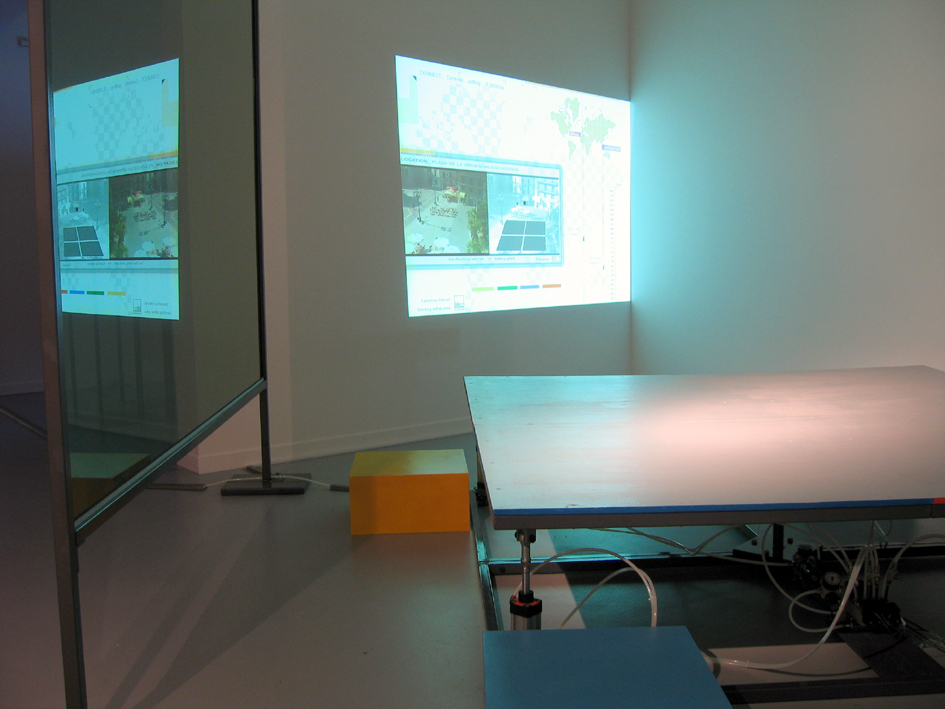 Site-specific Interactive Installation
Plaza de la Virgen-Valencia -> Singapore Art Museum
With the collaboration of Adrian D. Cheok and Lee Shang Ping
produced by Mixed Reality Lab, Singapore National University
2003
[eng]
Interactive installation made between Spain and Singapore where users can feel the presence of people in the physical space (Plaza de la Virgen, Valencia, Spain) and in a virtual space of social relationship (an Internet chat). A Central Axis consists of an autonomous agent that represents in real-time the activities that occur in the physical and virtual environments of social relations. This project establishes a reflection around the communication spaces based on how the traditional public square has ceased to be the space par excellence for meeting citizens, to become the Internet and virtual environments of social relationship. A Central Axis defines a new multipurpose space for hybridization of both physical and virtual experiences of life marked by human relationships, it is definitely a public space that breathes at the rhythm of human activity outside temporal space parameters.
It is formed by a platform of two square meters of surface. When we get on the platform it is shown as a living element, which breaths, turns and twists. It seems as if the soil goes from being an inorganic element to being a sensitive entity. In reality, the a-rhythmic inclinations of the structure are determined by the movements of people passing through the Plaza de la Virgen in Valencia, Spain, 10,000 km away from the platform that is located in the National Museum of Art in Singapore.
[esp]
Instalación interactiva realizada entre España y Singapur donde los usuarios pueden sentir la presencia de personas en el espacio físico (plaza de la Virgen, Valencia, España) y en un espacio virtual de relación social (un chat en Internet). A Central Axis consiste es un agente autónomo que representa a tiempo real la actividades que suceden en los entornos físicos y virtuales de relación social. Este proyecto establece una reflexión entorno a los espacios de comunicación basada en como la plaza pública tradicional ha dejado de ser el espacio por excelencia de encuentro entre los ciudadanos, para pasar a ser Internet y los entornos virtuales de relación social. A Central Axis define un nuevo espacio multiuso de hibridación de experiencias tanto físicas como virtuales de vida marcada por las relaciones humanas, en definitiva es un espacio público que respira al ritmo de la actividad humana fuera de parámetros espacio temporales.
Está formado por una plataforma de dos metros cuadrados de superficie. Al subirnos a la plataforma esta se nos muestra como un elemento vivo, que respira, gira y se torsiona. Parece como si el suelo pasara de ser un elemento inorgánico a ser un ente sensible. En realidad las inclinaciones a-rítmicas de la estructura están determinados por los movimientos de las personas al pasar por la Plaza de la Virgen en Valencia, España a 10.000 km de distancia de la plataforma que esta situada en el Museo Nacional de Arte de Singapore.