Hybrid Playground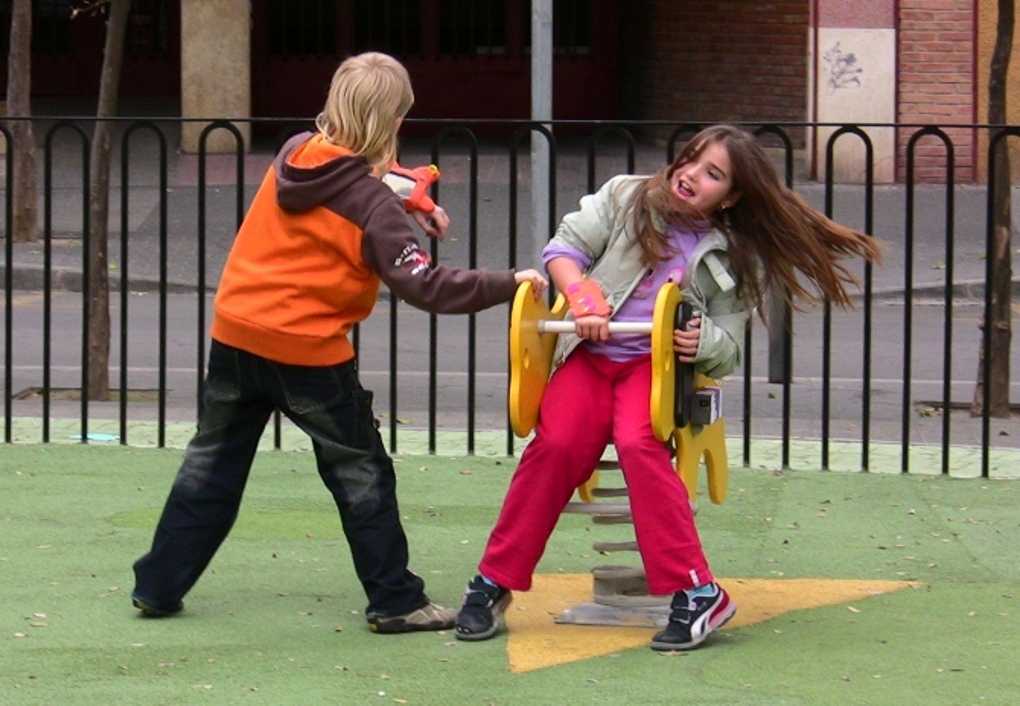 Outdoor interactive game
Custom sensors, custom software, mobile devices
2008

Produced by Lalalab, Intermediae Matadero Madrid and Hangar Barcelona.
Concept idea: Clara Boj and Diego Díaz
First version programming: Diego Díaz and Martin Nadal
Hardware development: Diego Díaz and Hangar Barcelona medialab team.
Illustration: Clara Boj
[eng]
Hybrid Playground transforms kids playgrounds into interactive game scenarios. A network of wireless sensors transforms the playground game elements into physical interfaces to control videogames that are shown in mobile devices (pda). Data of kids movements playing in the swings, the slide, the seesay, etc..are registered by the sensors and a custom software transforms this data in actions for control the digital game: walk, jump, run, turn, beat, etc…
Hybrid Playground combines physical and digital interaction to create open air game experiences by mising digital game strategies with street game dynamics, verbal and corporal comunication and team playing.
Since first development Hybrid Playground has gone through a extensive process of experimentation and development. We have had the chance to play and test the system with hundreds of kids from different countries and a wide range of ages. With their valuable feedback we have developed different prototypes, including technical and methodological improvements.
At present time we are developing a new version for mobile phones with two main goals: we are working to make a more complete game experience and we want to provide the tools to facilitate that users (kids, their parents and educators) could easily design and develop their own Hybrid Games to play at the playground.
More info at:
[esp]
Hybrid Playground transforma los parques infantiles en escenarios para el juego digital interactivo. Mediante una red de sensores inalámbricos transformamos los elementos de juego del parque infantil en interfaces físicas que nos permiten controlar los videojuegos que se muestran en unos dispositivos móviles (pda). A través de los sensores capturamos datos de los movimientos que los niños realizan en el columpio, al tirarse por el tobogán, al balancearse en el caballito, etc..y los transformamos en las acciones que controlan el videojuego: saltar, correr, girar, golpear, etc..
El sistema Hybrid Playground combina interacción física y digital para crear experiencias de juego al aire libre en las que las dinámicas propias de los videojuegos digitales se combinan con las estrategias de juego en la calle, la comunicación verbal y corporal y el juego en grupo.
Desde el inicio, Hybrid Playground ha pasado por diferentes fases de experimentación y desarrollo en las que hemos tenido la oportunidad de jugar con niños y niñas de diferentes países y edades. A partir de estos talleres y sesiones de juego hemos desarrollado diferentes prototipos que incorporan mejoras técnicas y estratégicas relativas a las dinámicas del juego.
Actualmente estamos trabajando en una nueva versión para teléfonos móviles con dos objetivos principales: que la experiencia en el parque sea más fluida y dinámica y que los usuarios puedan desarrollar sus propios videojuegos híbridos para ser jugados en el parque.
Más información en: